1911 Punisher Inlay
These grips are probably the coolest thing we've made at LOK Grips. The Punisher skull is an inlay (the skull is cut out of another piece of material and then installed into the set of grips). As you can see from the pics, the skull is extremely detailed and the fit is perfect. Once the grips are assembled, they are sand blasted to add texture to the grips. Other color combinations available; email us to let us know what you would like.
Punisher Skull Color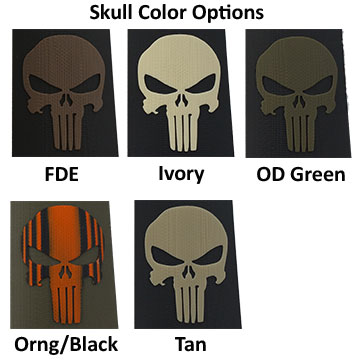 Punisher Skull Color
Size
Full Size or Compact 1911 Grips?
Thickness
Choosing Grip Thickness
Bottom Cut
Choosing the Bottom Cut
Ambi Safety Cut
Chosing Ambi Safety Option
Thumb Relief (By Mag Release)
Thumb Relief Options
MORE DETAILS
UPC:

Shipping:

Calculated at Checkout

Shipping:

Calculated at Checkout